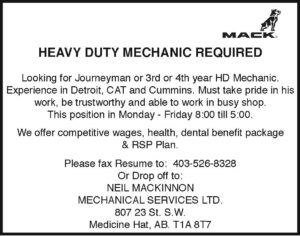 HEAVY DUTY 
MECHANIC REQUIRED
Looking for Journeyman or 3rd or 4th year HD Mechanic.
Experience in Detroit, CAT and Cummins. Must take pride in his work, be trustworthy and able to work in busy shop.
This position in Monday – Friday 8:00 till 5:00.
We offer competitive wages, health, dental benefit package
& RSP Plan.
Please fax Resume to: 403-526-8328
Or Drop off to:
NEIL MACKINNON
MECHANICAL SERVICES LTD.
807 23 St. S.W.
Medicine Hat, AB. T1A 8T7