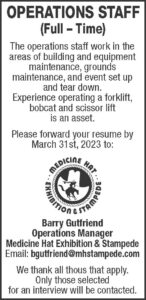 Medicine Hat Exhibition and Stampede
OPERATIONS STAFF
(Full – Time)
The operations staff work in the
areas of building and equipment maintenance, grounds maintenance, and event set up
and tear down.
Experience operating a forklift, bobcat and scissor lift
is an asset.
Please forward your resume by March 31st, 2023 to:
Barry Gutfriend
Operations Manager
Medicine Hat Exhibition & Stampede
Email: bgutfriend@mhstampede.com
We thank all thous that apply.
Only those selected
for an interview will be contacted.